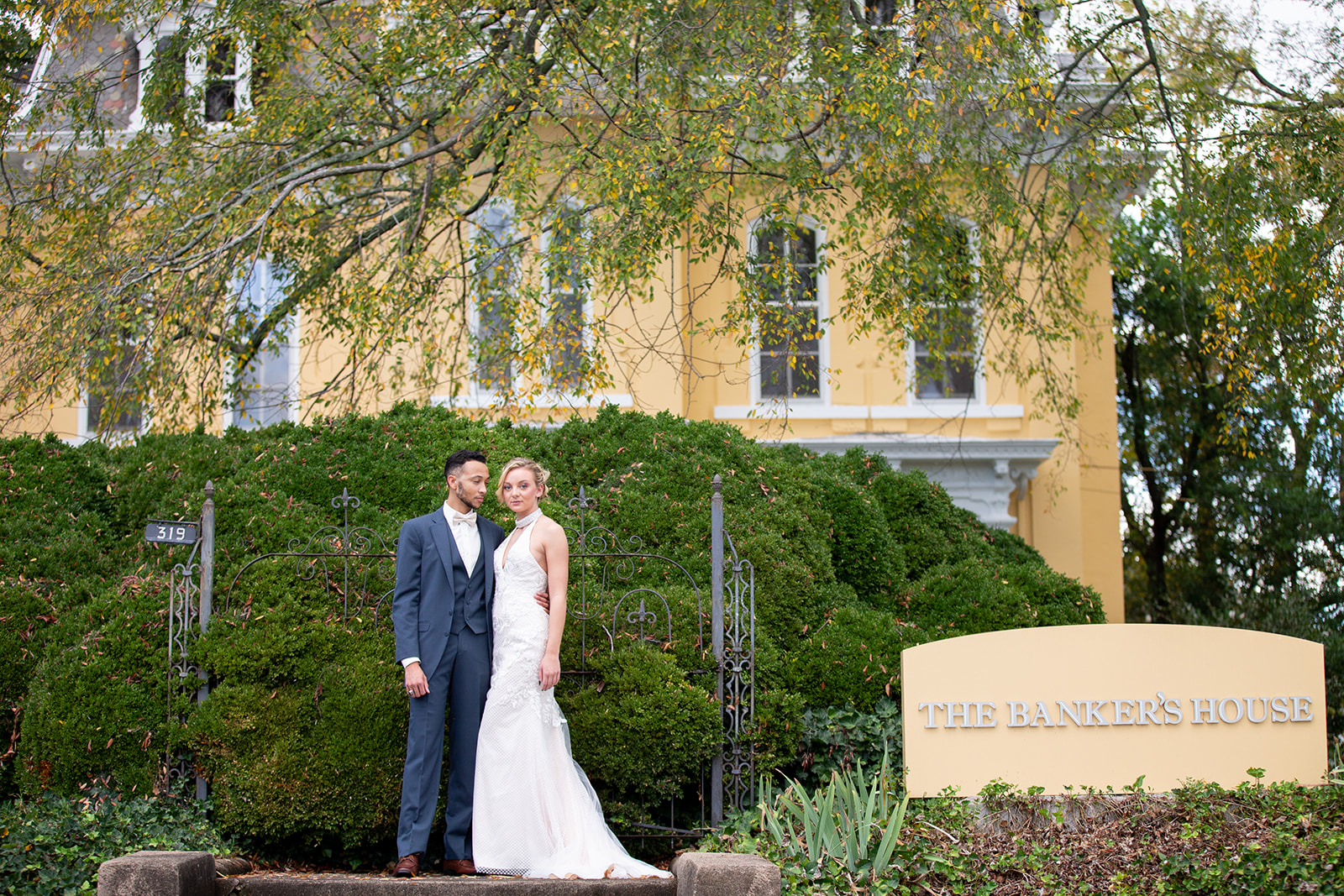 A Photoshoot to Remember
We all know that The Banker's House is a beautiful place to hold a wedding, but two years ago we pulled out all the stops to produce a wedding shoot to highlight all of the beautiful, amazing, unique photo possibilities the house offers to a bride and groom.
Assisting us in this endeavor were a wide variety of wedding professionals – each providing their expertise to the photo shoot, and each using the photos to promote their own separate businesses and services!
Jill Schwarzkopf  of Realities Photography led the team. Having photographed incredible venues such as The Biltmore House,  Jill had happened upon The Banker's House and found in it a plethora of places to shoot. Just take a look at the slideshow below to see how she uses natural light and the house's beautiful spaces to create photographs can truly be classified as art.
Models Meri-Morgan Lochner and Austin Ivory Phelps played the roles of bride and groom for our shoot. Both are amazing young people from our community who have participated and won many state, national and even international contests. We were so lucky to have their assistance in showing just how gorgeous The Banker's House can be.
Carolina Bridal and Alterations provided the lovely gowns for the "bride" and the spiffy tuxedo for the "groom." The Banker's House is proud to have a long-standing relationship with Carolina Bridal through the company's ongoing sponsorship each year for our Christmas Reveal.  Carolina Bridal & Alterations is a full-service bridal boutique featuring bridal, bridesmaid, prom, special occasion and pageant attire along with tuxedos and special occasion accessories.
Holly's Flowers supplied the beautiful bouquets and decorative flowers for our photo shoot. In business since 1976, Holly's has been at its current location in Uptown Shelby for more than 32 years. We are so grateful to Holly's for their help in providing exquisite red roses for our annual "Run for the Roses" Kentucky Derby Party.
And everybody loves wedding food! Our photoshoot "reception" was catered by Dressing on the Side. We have had a long-time association with this wonderful business, and they certainly came through for our photoshoot – just as they always do for all of the special events that they cater!
Finally, Lindsey Taylor of Almost Heaven Salon & Spa applied the "bride's" makeup and created a beautiful hairstyle for the "special day." Almost Heaven Salon was founded in 2018 and has assembled a team of professionals dedicated to offering high-quality services in all areas of beauty and bodily modification.
The day of our photoshoot dawned with light rain, but all of the participants were thrilled when the early afternoon skies cleared way to provide gorgeous and exquisite lighting for our team. Many thanks to all who participated! We hope to do other such shoots in the future!