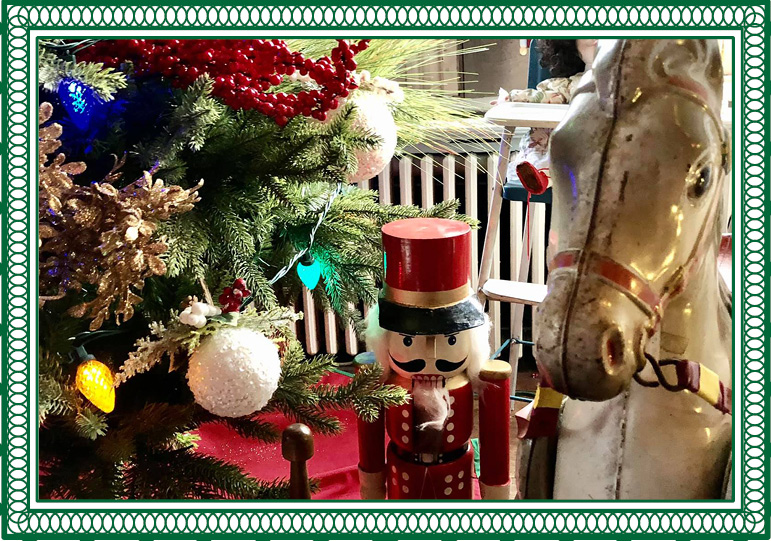 A Banker's House Tradition: The Christmas Reveal
It all began a few years ago when the folks at The Banker's House were asked to participate in the Cleveland County Arts Council's Holiday Home tour. Since The Banker's House is not a residential "home," it was decided to ask area businesses, organizations and individuals to decorate different rooms of the house for the tour our first year.  The second year, The Banker's House was again on the Art's Council tour and used the same plan for decorating that had been successful the year before.
Having the historic house decorated and open to the public had become a new tradition. So even though the house was not on the official "tour" the third year, organizers decided to do it again and to call it the "Christmas Reveal." It has now become an annual event sponsored by The Banker's House with community members eager each year to see what new décor will be selected for each beautiful Banker's House room inside. Every year brings new and returning decorators to put their creativity to the test in adorning this historic house.
This year's Christmas Reveal will take place on Friday, December 3, 2021 from 4:30 – 7:30 pm.
In addition to the amazing decorations, the Christmas Reveal also includes live music, delicious homemade desserts and festive drink selections. Tickets are $10 each and includes a ticket for a free beverage (desserts are included in the ticket price). Area journalist and author Joe DePriest's  book, Voices in Time: Stories of The Banker's House, will be on sale for a discounted rate of $30 each or two for $50.
This fun, festive event is a great way to officially usher in the holiday season with friends, food, libations, lovely music and lots and lots of eye candy!
Tickets are available at the Cleveland County Chamber Office or by calling 980-404-0096.