NEWS
Standing Tall Through it All!
Just as The Banker's House has "stood tall" through the years, we all have been challenged to "Stand Tall Through it All" for the past year. This year's summer camps will focus on this theme, encouraging campers to learn to grow stronger through adversity.
The four-day camp session will consist of stimulating activities highlighting the history of Shelby and the Banker's House and will include environmental and science activities, tours of the local area, crafts, games and photography. Campers will also learn about the care of horses — even go for a brief ride (if they want to do so)!
Camp counselor Heather Halbert is an Exceptional Children's teacher (and former Teacher of the Year!) at Graham School in Shelby. She has experience working with a wide variety of students, and her interests include photography, blogging and music. Other adults will also be present to assist her throughout the week.
Boys and Girls Club members are eligible to attend at no cost!
For all others the fee is $50/week which includes lunch and snacks.
The camp is held on the Banker's House property at 319 N. Lafayette Street, Shelby, NC 28150.
Enrollment is limited!
To register, fill out this registration form, and scan
and email them to
[email protected]
or mail them to:
The Banker's House
P.O. Box 1284,
Shelby, NC 28151
with check or credit card information.
For more information, call Carolyn Jackson, Executive Director of The Banker's House, at (980) 404-0096.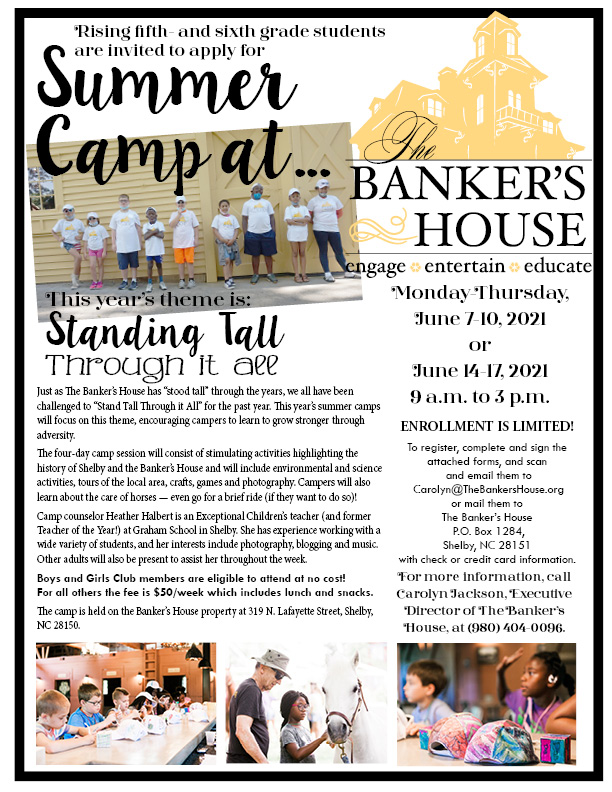 "Voices in Time - Stories of the Banker's House"
by Joe DePriest
$32.00 + $5 shipping per book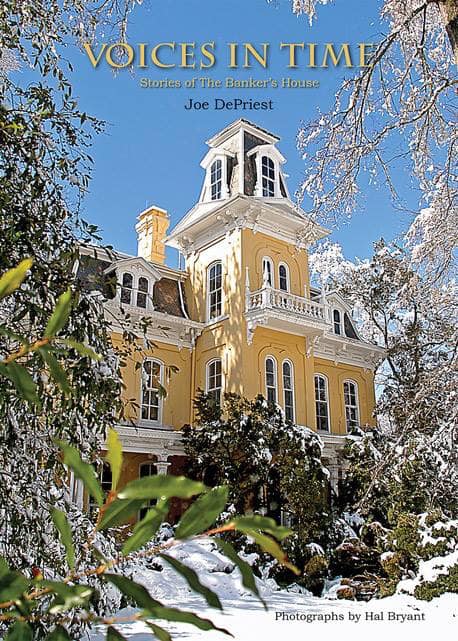 First Friday Tours at The Banker's House
We are happy to report that we are "on" for October's First Friday Tours at The Banker's House! If you have ever wanted to get a behind-the-scenes glimpse of The Banker's House, then this is your chance! Join us for First Friday Tours on the first Friday of every month. Our next tour is coming up soon on Friday, Oct. 2! We are extending our tour hours to from 3 – 6 p.m. in order to allow for social distancing. Cost is $7 at the door.
"You Can Count On Us Cleveland County" is a voluntary program developed by Cleveland County Government and designed to ensure that local businesses and organizations participating are equipped to deliver the highest standards of public health and safety in order to comply with federal, state and local guidance during the reopening process. The Banker's House is pleased to be a part of this cooperative effort. Visitors are required to wear a mask and maintain social distancing during the tour. We hope to see you there!
If you can't make it on a First Friday, you can book your private party tour for a groups of six or more people by calling Carolyn Jackson at (980) 404-0096.