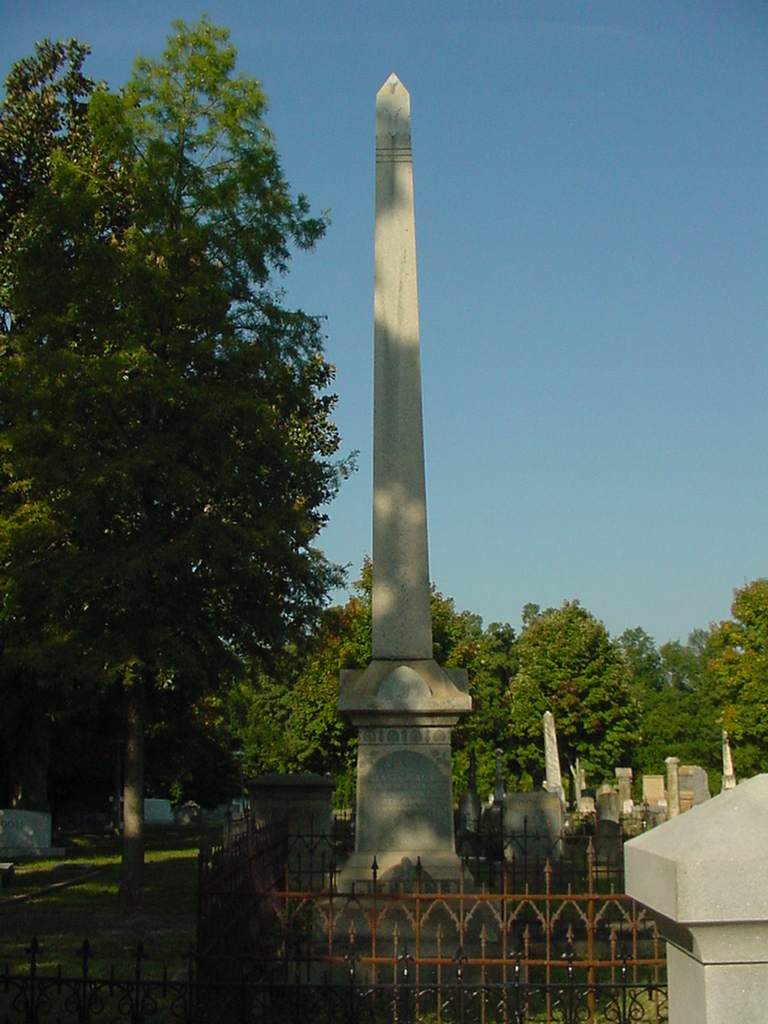 A Walk Through Sunset Cemetery
By Joe DePriest, author of Voices in Time: Stories of The Banker's House and co-author of the upcoming book, Tales and Tombstones of Sunset Cemetery: Tracing Lives and Memorial Customs in a Southern Graveyard
Walk through the front gate at Shelby's historic Sunset Cemetery, which dates from 1841, and stop at a tall obelisk reaching for the sky.
This impressive stone marks the grave of Jesse Jenkins, founder of Shelby's first bank. For some visitors familiar with his story, this mark is also a vivid reminder of how Sunset Cemetery and the Banker's House are linked. Jesse, who died in 1889, built the Second Empire house at the insistence of his wife, Hattie. They were the first residents. Hattie is buried in a San Diego cemetery. The story of how she talked her husband into building the unique three-story house on North Lafayette Street is told in my book, Voices in Time: Stories of the Banker's House.
Many of the people who appear in that history – all with connections to the Banker's House – are buried in Sunset Cemetery. People like Charles Coleman Blanton, who would become president of the bank that Jesse founded and eventually live in the house on North Lafayette. Charles' brother, George W. Blanton Sr., is there along with his son, George Blanton Jr. and many other family members.
Sunset Cemetery is also the final resting place for people who worked at the bank, which became First National Bank, and its customers. Bank clerk Ora Eskridge, named for Charles Blanton's wife, Ora Brewster, has slept in Sunset Cemetery since she was killed when the roof of the temporary bank collapsed in August, 1928. Near Ora's marker is the grave of her friend, Emma Frick, who died in 1928 from injuries sustained in a fire at the Central Hotel which she was living. The hotel was part of the bank building and had moved into temporary quarters across Warren Street during restoration work. (The rebuilt hotel would be named the Hotel Charles, after Charles Coleman Blanton.)
Two friends, both of whom would have attended social functions at the Banker's House, died less than six months apart in tragic incidents right across the same street from each other. And then they became neighbors in Sunset Cemetery.
These stories, along with many others, are told in a soon-to-be-published book Tales and Tombstones of Sunset Cemetery: Tracing Lives and Memorial Customs in a Southern Graveyard. The co-authors are myself and June Hadden Hobbs. June is professor of English and director of undergraduate research at Gardner-Webb University. She is the author of many articles on tombstones and American women's hymns and former editor of Markers, the international journal for the Association of Gravestone Studies. I am a retired journalist who worked with The Shelby Star and The Charlotte Observer.
Tales and Tombstones is on the fall book list of McFarland Publishers, but no release date has been set. Preorders are being accepted on the McFarland website, along with Amazon and Barnes & Noble.