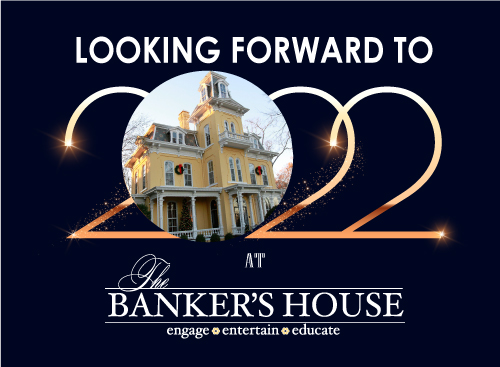 Looking Forward to 2022
It's a brand-new year, and we at The Banker's House are excited and optimistic that it will be a great one! We have our calendar packed with events that will allow many area residents the opportunity to visit and enjoy this beautiful property. And, of course, we still have many open calendar dates throughout the year for YOU to schedule your own special event for 2022! Weddings, receptions, birthday and anniversary parties – you name it – The Banker's House is the perfect venue for whatever event you may be celebrating.
First up on The Banker's House agenda for 2022 is a Cleveland County Chamber luncheon that we will be hosting on Jan. 19, 2022. This is for members of the chamber only, but we are proud to be the host location for this important event!
Each month, starting in March, The Banker's House will also host First Friday tours on the first Friday in each month. The tours offer a behind-the-scenes glimpse of the amazing Banker's House and grounds. Tours hours are from 3 – 6 p.m. and the cost is $7 at the door. And, If you can't make it on a First Friday, you can book your private party tour for a groups of six or more people by calling Carolyn Jackson at (980) 404-0096 or emailing her at Carolyn@TheBankersHouse.org.
And then, when spring buds start blooming around the Banker's House gardens, the countdown will be on for The Banker's House's yearly signature event, the Run for the Roses Kentucky Derby Party, set for Saturday, May 7, 2022. Big hats, bow ties, and bourbon are featured along with authentic Kentucky cuisine, handcrafted mint juleps, and other signature cocktails along with four big-screen TVs,  live entertainment, and fun for all! You will not want to miss the fastest two minutes in sports brought to you, right here in Shelby, NC!
Later in May, we hope to host an event for Historic Preservation Month. Details on that event will be posted closer to the time.
In the spring or summer months we also hope to host a talk by Joe DePriest and Dr. June Hadden Hobbs, authors of a new book titled Tales and Tombstones of Sunset Cemetery: Tracing Lives and Memorial Customs in a Southern Graveyard.  Sunset Cemetery is the resting place for several people with ties to The Banker's House, so we know those who love The Banker's House and Shelby history will love hearing more about this new book. Tales and Tombstones also has photos by Hal Bryant. You may remember that Joe and Hal worked together before on the book that traces the history of The Banker's House called Voices in Time: Stories of The Banker's House.
Summertime brings the annual Banker's House Summer Camps. These camps are funded by the Kentucky Derby Party (see above). The money raised at the party will fund camps for rising fifth graders from across Cleveland County! Camp-goers learn – through hands-on activities – how to be an involved and productive citizen of the community. Etiquette, banking, the Foothills Farmers Market, shopping local, music, art, and much more are all nicely packaged into a week-long camp kids are sure to remember.
The fall will bring gorgeous colors to our spectacular ginkgo tree and other foliage on The Banker's House grounds. We hope to have another special event during these fresh autumn days, but we are often booked with weddings and special occasions during this time. Be sure to keep a watch on our social media sites for any updates on events that may get scheduled closer to that time.
Finally, in December, The Banker's House's Christmas Reveal will help get you get your holidays off to a festive start! This annual tradition is held each year on the first Friday of December – which will be Dec. 2, 2022. Participants will have the opportunity to be enchanted by the unique decorations both inside and outside of The Banker's House and the adjoining barn/carriage house. Each room or area is sponsored and decorated by local businesses, individuals or groups. It will be an incredible way of finishing out a terrific year of activities at The Banker's House.
We hope you will make plans now to join us for any or all of our events throughout the year. And, don't forget, you can create your OWN special memories at The Banker's House by booking the house, the barn/carriage house, or the entire property for your special 2022 event!