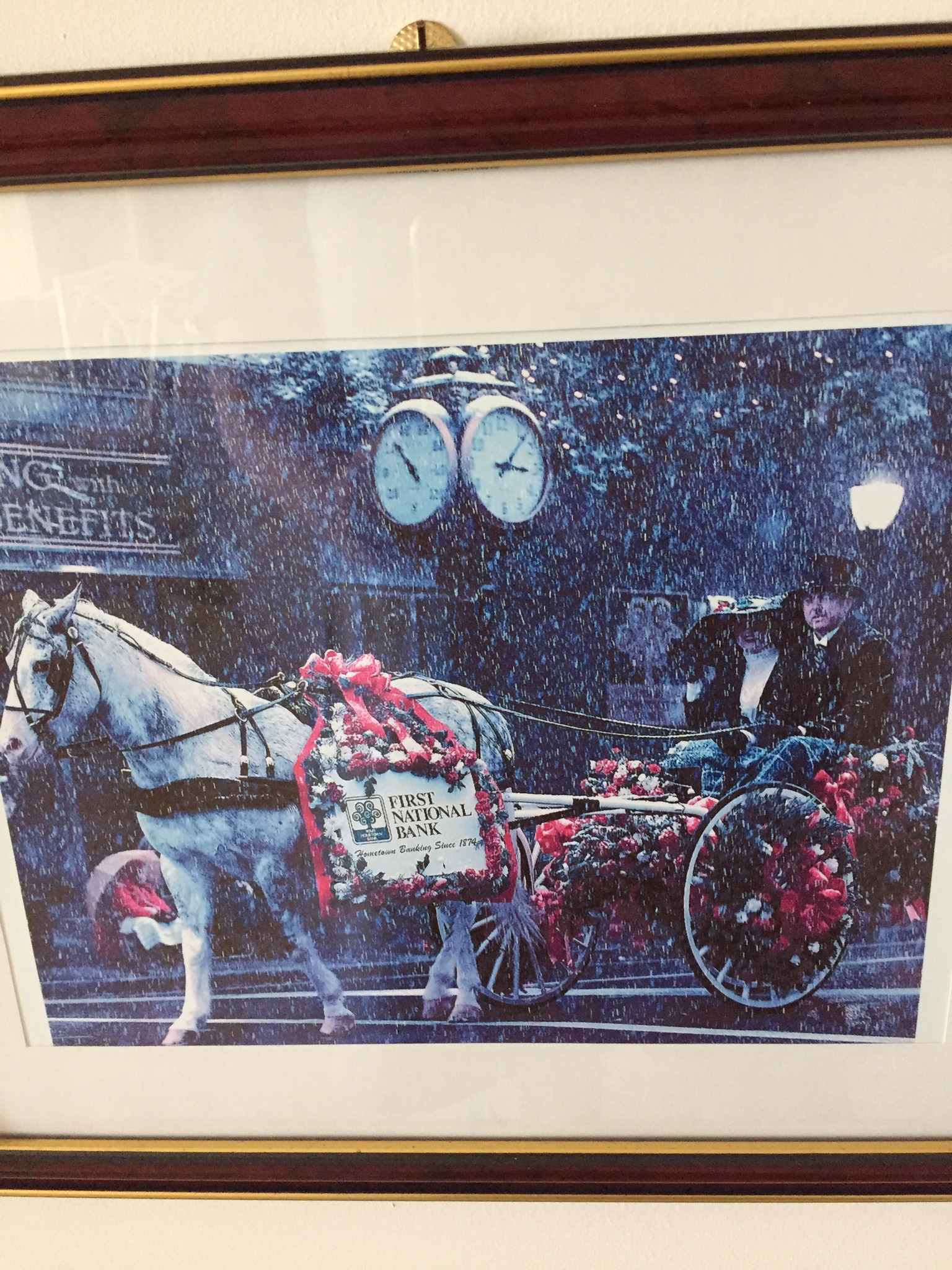 A Memory of The Banker's House – Christmas 2000
By Catherine Blanton Freedberg
When my sister Lydia Blanton Matthews and I were asked to offer a salient family Christmas memory in this space—the Banker's House blog—our minds were flooded with the "impossible-to-choose-from" cornucopia of more than 50 Christmases celebrated in there. We were the luckiest of all the residents, as our parents lived in the house longest: from their marriage in 1937 until our father's death there in 2001 and our mother's, in 2006.
The Christmas of 2000, the millennial year, was the last our father would experience. Weakened and frail, less than a month before his death, he came to a window on the expansive second floor of the Banker's House to delight in the vision that is shown in the photograph at left. For someone who had championed his community and built an even more robust banking institution than his forebears before him, this was a perfect coda and end point to a life well lived. He did not see another Christmas.
The photo shows what our father saw. And I, Catherine, was present beside him to witness his joy. It was a specially arranged "drive by" viewing for him to see the First National Bank's entry in the much-anticipated Shelby Christmas Parade of 2000. Not only did it snow gloriously on cue, but also Danny Denton and his daughter, Holly Denton Wall—both highly valued and esteemed First National employees at the time—were up top. They were both dressed in Victorian finery and driving a horse and period rig, which were the property of our father's great bird-hunting friend and my high school classmate, W. Jackson Arey, Jr.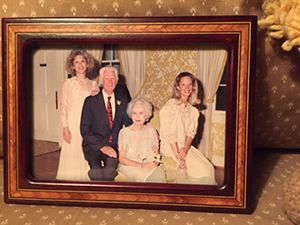 Jack, a horse enthusiast (with the family farm, Twin Chimneys, offering a fine stable), had in fact bought the carriage and tack from our father in the late 1990s. They had formerly been the proud possessions and mode of locomotion, originally in the 1890s, for our father's grandfather, the first Blanton family occupant of the Banker's House, Burwell Blanton. And then of my father's uncle, Charles Coleman Blanton—"Uncle Charlie," who is wonderfully chronicled in Joe DePriest's book, Voices in Time: Stories of the Banker's House. Possibly our most revered and formidable Shelby ancestor, himself a banker, Charles owned and lived in the Banker's House for many years prior to his death in 1944. Even in my childhood, the carriage had been lovingly stored in the Carriage House, now the catering kitchen in the restored Banker's House barn.
So much has come back around to its origins as this photo and my memory here record. Lydia and I are proud to say that, in addition, Holly Denton Wall has recently come full circle, too, as a new member of the Banker's House Advisory Council. The council is made up of committed, local leaders who guide the property in all its now "for the public" undertakings. Lydia and I are very proud and grateful for this legacy and the place that the Banker's House has won in the hearts of our beloved hometown.